Please join Andrew Unger on Saturday, April 2, 2:00 pm, as he launches The Best of the Bonnet at the Mennonite Heritage Museum, 1818 Clearbrook Road, Abbotsford, BC.
Vaccine passport and ID is required for this in-person event.
IF YOU HAVEN'T REGISTERED, PLEASE COME ANYWAY; DROP INS WILL BE ACCOMMODATED!  Vaccine Passport and ID are still required.

To Register, call 604-758-5667.

Please indicate if you would like to reserve his books for purchase at the event.
The event is FREE and admission to exhibits (open until 4pm) is also free.
Doors open at 1pm.
See you there!
Since its debut in 2016, the internet's most trusted source for Mennonite satire has kept readers laughing with hundreds of hilarious headlines and tongue-in-cheek editorials where (almost) no topic is off limits. The Best of the Bonnet brings together some of The Daily Bonnet's funniest, most loved posts, that have drawn the attention of everyone from the Canadian Prairies to the high-rises of New York. In this collection of stories is a special introduction by author Andrew Unger, commenting on the nature of satire and his love for community.
The Best of the Bonnet is an absolute must-have for fans of The Daily Bonnet or anyone in love with the absurdity of day-to-day life.
Andrew Unger is the author and founder of the satire website The Daily Bonnet and the award-winning novel Once Removed. An educator based in southern Manitoba, his work has appeared in
Geez, Rhubarb, Ballast, CBC.ca, the Winnipeg Free Press, and
many others. If you go back far enough, he's probably related to you.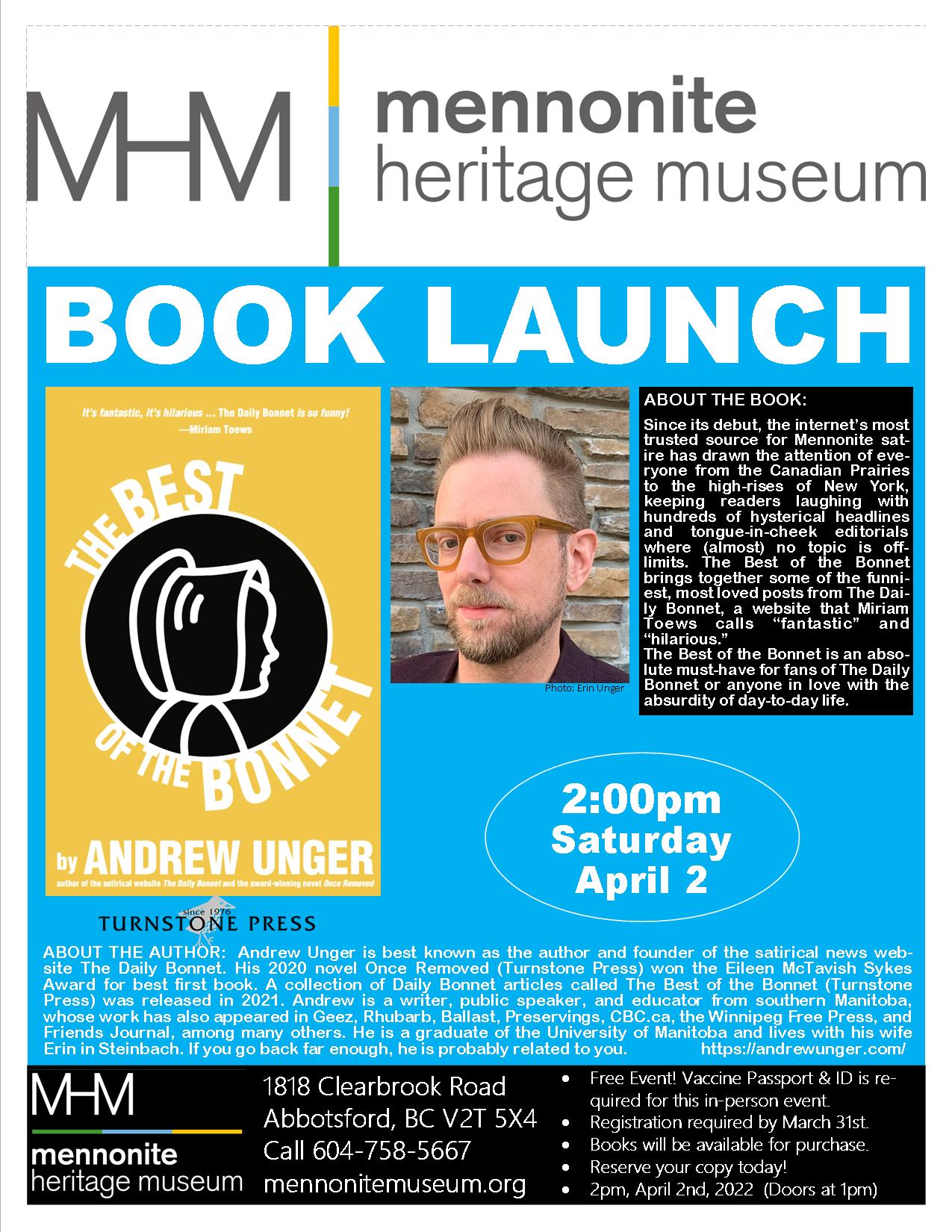 ---