You are Invited to this free event!
Join author John H. Redekop as he presents his book: Mennonite In Motion: The Life and Times of John H. Redekop, Ph.D.
2:00pm
Saturday
April 23
1818 Clearbrook Road
Abbotsford, BC V2T 5X4
Call 604-758-5667
mennonitemuseum.org
*Enter to win a free book by registering your spot by April 21.
Call 604-758-5667
*Reserve your copy today!
Complimentary refreshments: Platz
2pm, April 23rd, 2022 (Doors at 1pm)
*Recommended
Doors at 1pm, Presentation at 2pm, Exhibits open until 4pm.
Wheelchair accessible.
Special Guests: Herb Neufeld & Mary Durksen
Special Music: The Male Quartet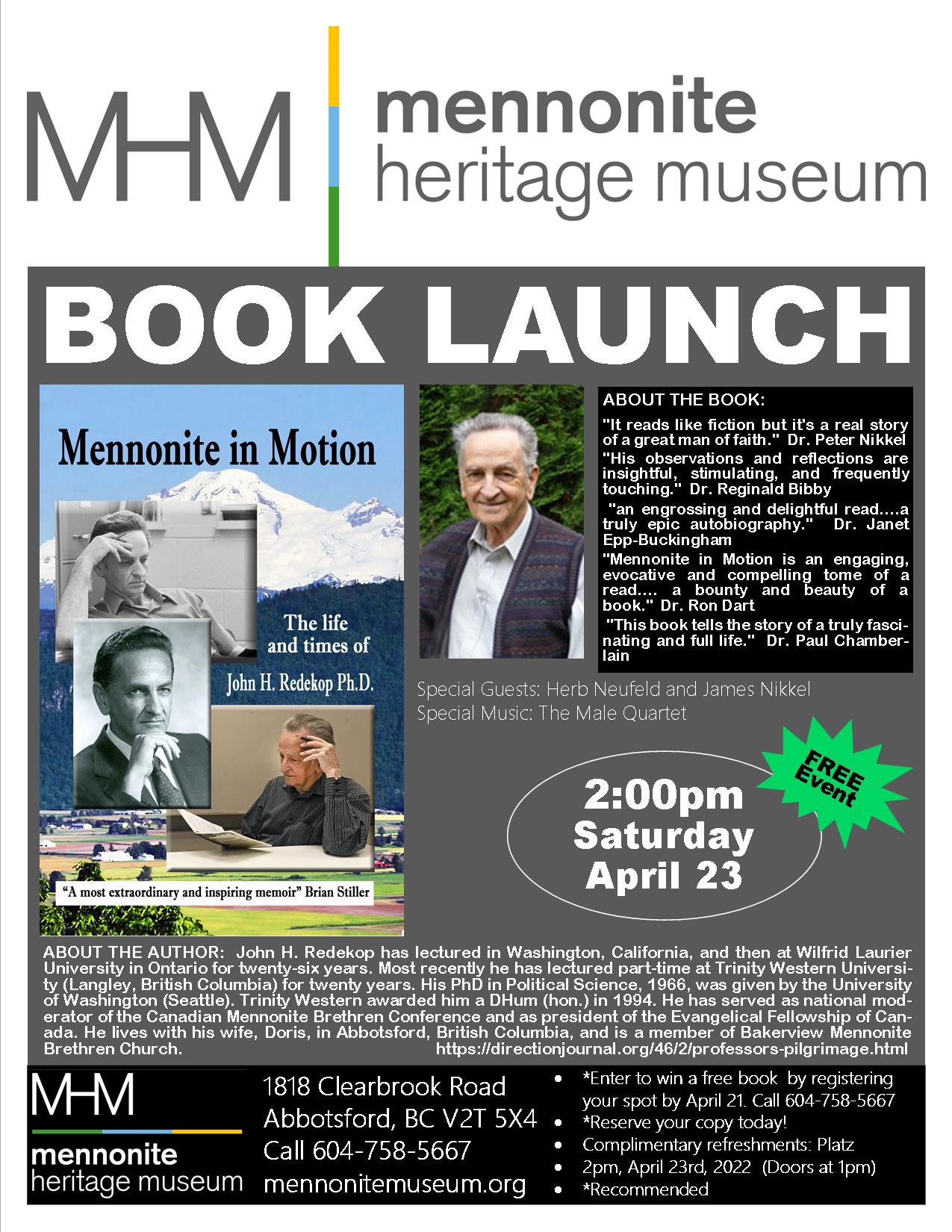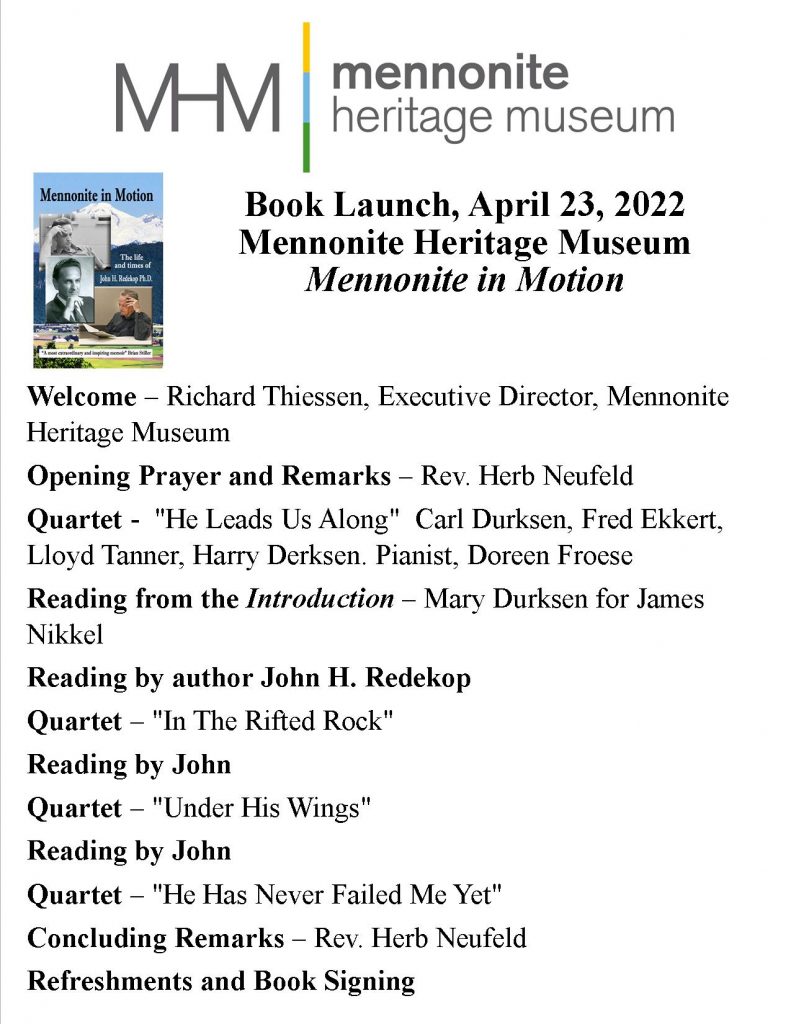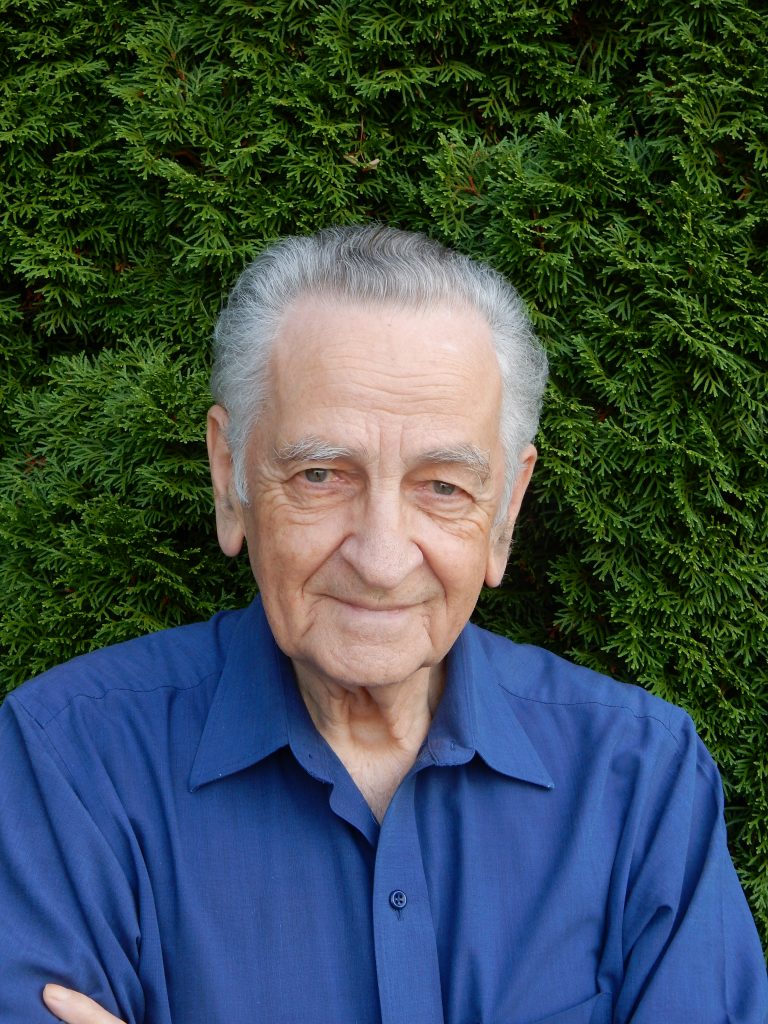 ABOUT THE BOOK:
"It reads like fiction but it's a real story of a great man of faith."  Dr. Peter Nikkel
"His observations and reflections are insightful, stimulating, and frequently touching."  Dr. Reginald Bibby
"an engrossing and delightful read….a truly epic autobiography."  Dr. Janet Epp-Buckingham
"Mennonite in Motion is an engaging, evocative and compelling tome of a read…. a bounty and beauty of a book."  Dr. Ron Dart
"This book tells the story of a truly fascinating and full life."  Dr. Paul Chamberlain
ABOUT THE AUTHOR:
John H. Redekop has lectured in Washington, California, and then at Wilfrid Laurier University in Ontario for twenty-six years. Most recently he has lectured part-time at Trinity Western University (Langley, British Columbia) for twenty years. His PhD in Political Science, 1966, was given by the University of Washington (Seattle). Trinity Western awarded him a DHum (hon.) in 1994. He has served as national moderator of the Canadian Mennonite Brethren Conference and as president of the Evangelical Fellowship of Canada. He lives with his wife, Doris, in Abbotsford, British Columbia, and is a member of Bakerview Mennonite Brethren Church.
https://directionjournal.org/46/2/professors-pilgrimage.html
---