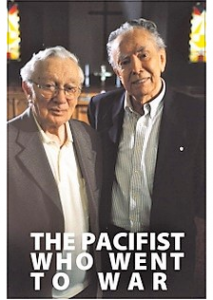 The Pacifist Who Went to War was produced by Joe Macdonald in 2002, directed by David Neufeld, along with the National Film Board of Canada. The film is 51 minutes long, with narration by Margaret Nagle. Ideologies of WWII and Mennonite beliefs intertwine in telling stories of pacifism, alternative and active service. Complexities of these bring forth discussions of conflict in the Mennonite communities during a time of crisis. This narrows in on Canadian history, specifically in Winkler, Manitoba. Two featured speakers, John and Ted Friesen, speak of their experiences and the ways in which they were affected by difficult situations caused by the war.
Much like many other Mennonite historical films, a brief history of Mennonite communities is illustrated. Among the two Friesen brothers, there is a commonality of beliefs, while also differing, being that one brother enlisted and the other became a C.O. (Conscientious Objector). This becomes the framework for the film's discussion, as they each tell their side of how these choices affected their lives, and of those around them.
This film uses old photographs and film footage in combination with interviews and research to describe topics such as clashing cultures, court processes for alternative service approval, Hitler's rule, and reconciliation. Some of the discussion includes the problems faced by Mennonites who went to war, which was frowned upon by the community. The division that this brought about is explained, and various voices contribute their contrasting opinions on how this should or should not have been. Others speak on these subjects young and old, including interviewees Anton Dyck and Harvey Friesen.
The film delivers its facts and information in an organized manner, while supplemented with visual interest. Though the film contains heavy subject matter, the film can be watched with the whole family.
-Teanna Rozek

Bibliography
"The Pacifist Who Went to War". National Film Board of Canada. August, 2018. Web. <http://onf-nfb.gc.ca/en/our-collection/?idfilm=51136>
"The Pacifist Who Went to War". Joe Macdonald. National Film Board of Canada. 2002.
---