Please join Sarah Ens and Ellie Sawatzky on Saturday, September 10, 2:00 pm, as they launch their new poetry collections Flyway (Sarah Ens) and None of This Belongs to Me (Ellie Sawatsky) at the Mennonite Heritage Museum, 1818 Clearbrook Road, Abbotsford, BC.
Thanks to the League of Canadian Poets and the Canada Council for the Arts for funding for this event!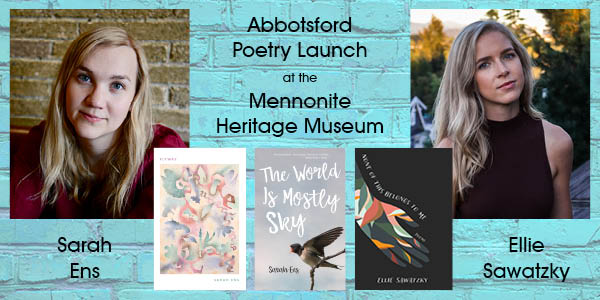 About Flyway and Sarah Ens
This meditation on the impact of human and ecological trauma explores the cost of survival for three generations of women living between empires. Writing from within the disappearing tallgrass prairie, Sarah Ens follows connections between the Russian Mennonite diaspora and the disrupted migratory patterns of grassland birds. Drawing on family history, eco-poetics, and the rich tradition of the Canadian long poem, Flyway migrates along pathways of geography and the heart to grapple with complexities of home.
Sarah Ens is a writer and editor based in Treaty 1 territory (Winnipeg, MB). Her poetry and nonfiction have appeared in numerous publications throughout North America. Her debut collection of poetry, The World Is Mostly Sky was shortlisted for the 2021 McNally Robinson Book of the Year Award and the 2022 Lansdowne Prize for Poetry. Sarah holds a BFA in Creative Writing from the University of British Columbia and an MFA in Writing from the University of Saskatchewan. Flyway is her second book of poetry.
About None of This Belongs to Me and Ellie Sawatzky
In this vibrant debut, Ellie Sawatzky rustles the underbrush of identity, seeking clarity on the nature of ownership and belonging. Haunted and inspired by old boyfriends, girls named Emily, ancestral ghosts, polar bears and mythic horses, None of This Belongs to Me plots a young woman's coming of age in a time of environmental and socio-economic peril.
Ellie Sawatzky (@elliesawatzky) grew up in Kenora, Ontario. A past winner of CV2's Foster Poetry Prize, runner up for the Thomas Morton Memorial Prize and Room's Poetry Prize, and a finalist for the 2019 Bronwen Wallace Award, her poetry and fiction have been published widely in literary magazines such as Grain, The Fiddlehead, Prairie Fire, The Puritan, and PRISM. Her debut full-length poetry collection None of This Belongs to Me, featured in CBC Books, was published by Nightwood Editions in October 2021. She is currently an editor for FriesenPress, a member of the Growing Room Collective, and curator of the Instagram account IMPROMPTU (@impromptuprompts), a hub for prompts and literary inspiration. She lives in Vancouver with her partner and a cat named Camus.
---