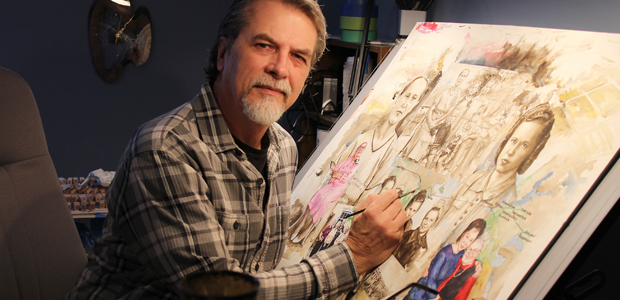 Along the Road to Freedom
9 January - 31 March 2017

An exhibition of 26 Paintings by Winnipeg artist Ray Dirks.

A project of the Mennonite Heritage Centre Gallery, Winnipeg.

In art and words, the exhibit tells the dramatic stories of women and their families who fled the Soviet Union in the decade after the Russian Revolution and during World War II. Despite the despair, horror and loss each of these families faced, at its core, this exhibit is about love, courage, humility, determination and faith.

Along the Road to Freedom developed out of the desire of the project's committee members to honour the women responsible for bringing them to Canada. Artworks are sponsored, for the most part, by families. Artist Ray Dirks interviewed sponsoring family members, collected research material and cobbled together memories into images to create the paintings.

Hours:
Monday to Friday, 10 a.m. – 4 p.m.