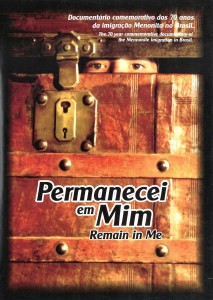 Remain in Me, is a 75 minute documentary about Mennonites and their immigration from Russia to Brazil. This was produced by Adolf Carl Krüger, Martin Töws, Geraldo Braun and Pedro Roberto Wiens, released in 2001. The story is narrated in chronological order, along with scripted scenes to be easily understood. The film also uses photos, film footage (new and old), maps, and paintings to elaborate. Additionally, interviewees give descriptions of firsthand experiences in Brazil's native language. Not all of the film is in Portuguese however, and for those who are English-only, such parts include English subtitles.
The film covers various topics including the persecution of Christians and the beginning of the state church. There is significant history noted of Johannes Gutenberg, Menno Simons, the 18th Century War in Europe, and Catherine the Great's invitation to the Mennonites to settle in Southern Russia. Further information involves discussions of work and labor, struggles, achievements, the Russian Revolution, confiscation of land, high taxes, low wages, homelessness and travel.
In the beginning of the film, the viewer is positioned in a way that creates a feeling of being chased through a field. There is the sound of heavy breathing, a pounding heart, and gun shots. A following scene shows a presumed dead body. There is also a brief scene demonstrating a home invasion where there is some violence and is slightly graphic. To parents of young children who are considering this film, viewer discretion is advised.
As the story unfolds, viewers learn about each destination visited by the Mennonites on their way to Brazil. Once settled in Brazil, the Mennonites adapted to a new climate and culture with some difficulty. This is explained, with information on their founded colonies, built houses and plantations, as well as their difficulties in getting used to such changes, and the politics involved with the area. Though the Mennonites had some success within their endeavors, they also endured much hardship and this is explained thoroughly. The film concludes with information on current conditions of the Mennonite communities in Brazil.
-Teanna Rozek

Bibliography
Krüger, Adolf Carl; Töws, Martin; Braun, Geraldo; Wiens, Pedro Roberto "Permaneci em Mim –
Remain in Me". Ȇxodo Imagens 2001.
---