Tag Archives: Canadian Authors
You Are Invited …
to our Book Launch!
Featuring: Follow the Black Lines by Elsie K. Neufeld with Henry & Velma Braun
2:00pm
Saturday
March 18, 2023
Registration required.  To register call 604-758-5667.
Feel free to call after hours, just leave a message.
Café Open for 2 Seatings
11:30am and 12:30pm
Menu: Borscht & Bun, Platz
Reservations Required
By Donation Main Exhibit Tour at 12:30pm
Registration Required
Free Presentation at 2pm
with Complimentary Refreshments  & Self Guided Tours until 4pm
Registration Required


"Follow the Black Lines sets the standard for family histories. This story, so honestly told, of two "Russian Mennonites" and their families, will leave an indelible mark upon its readers. Far more, however, than a family history, it is a near novelistic account of the refugee experience, in this case a horrific flight from the Soviet Union during the ravages of World War II, to a brief but difficult interlude in Paraguay, and finally to successful integration into life in Canada. Ultimately, a transcendent tale of grace."
—Robert Martens, writer, editor, poet
In a day when "family" is difficult to define, and lacks positive portrayal in the media, "Follow the Black Lines" reminds us of the importance of our family stories. This book demonstrates the value of retelling our family hardships and tragedies.  In this volume lies the phenomenal story of the George and Margaret Braun extended family. It describes the years leading up to the family struggles as WWII refugees when they were constantly on the move, with few allies to hide, protect or feed them.  Rather, they were forced to adapt to incredibly diverse foreign cultures from Ukraine through Germany and postwar Western Europe, temporarily landing in Paraguay and, ultimately, Canada.  This Mennonite family faced hunger, disease and discrimination all described by a vivid narrative and by skillful placement of era photographs. But despite the brutal treks in severe weather conditions, across Western Europe and struggles in South America, the Braun family never forgot the sacrifices that had been made in search of freedom and a future for its off-spring.  Inevitably, extraordinary achievement beyond anyone's expectations was realized in Canada. Undoubtedly, the seeds of that success were sown years before in the sacrifices of the family.
One cannot read this engaging biography without pining for the simplicity of a different time with different values.  Informative, comprehensive, and transparent, it could form the basis of a documentary.  Perhaps this remarkably well-researched family history will help us to escape society's current tendency to self-centeredness and usher in a return to an unpretentious priority for the family.
—Bob Kuhn, President Emeritus, Trinity Western University
This exhibit extended to April 14: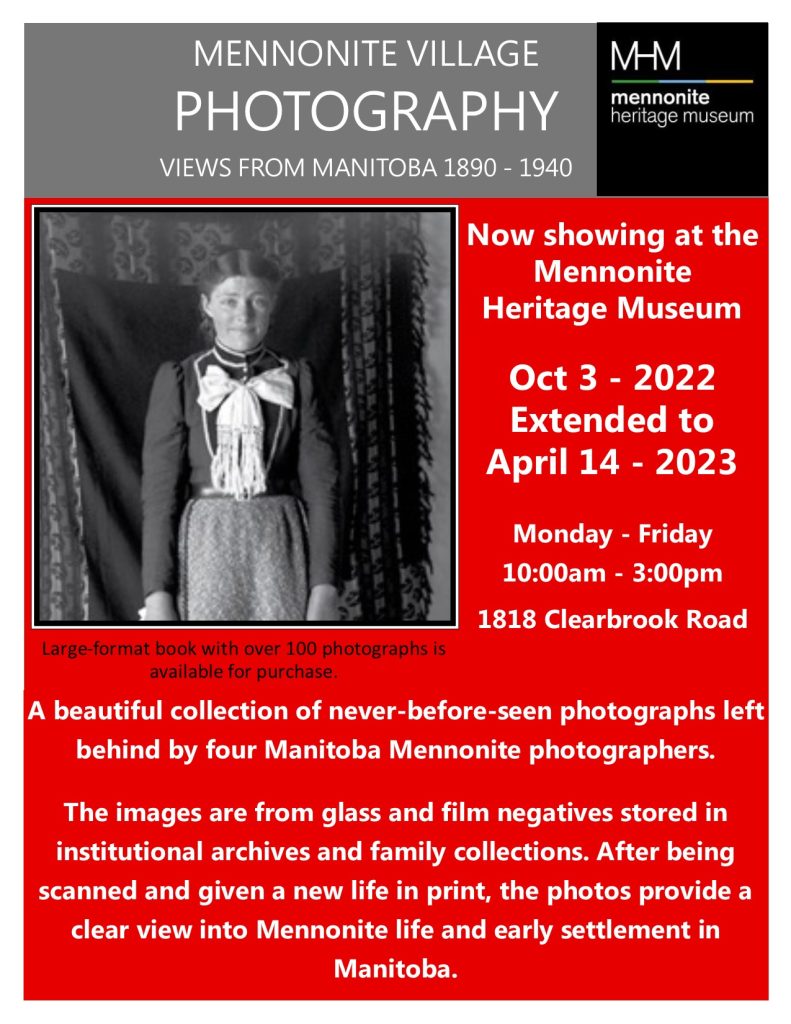 ---