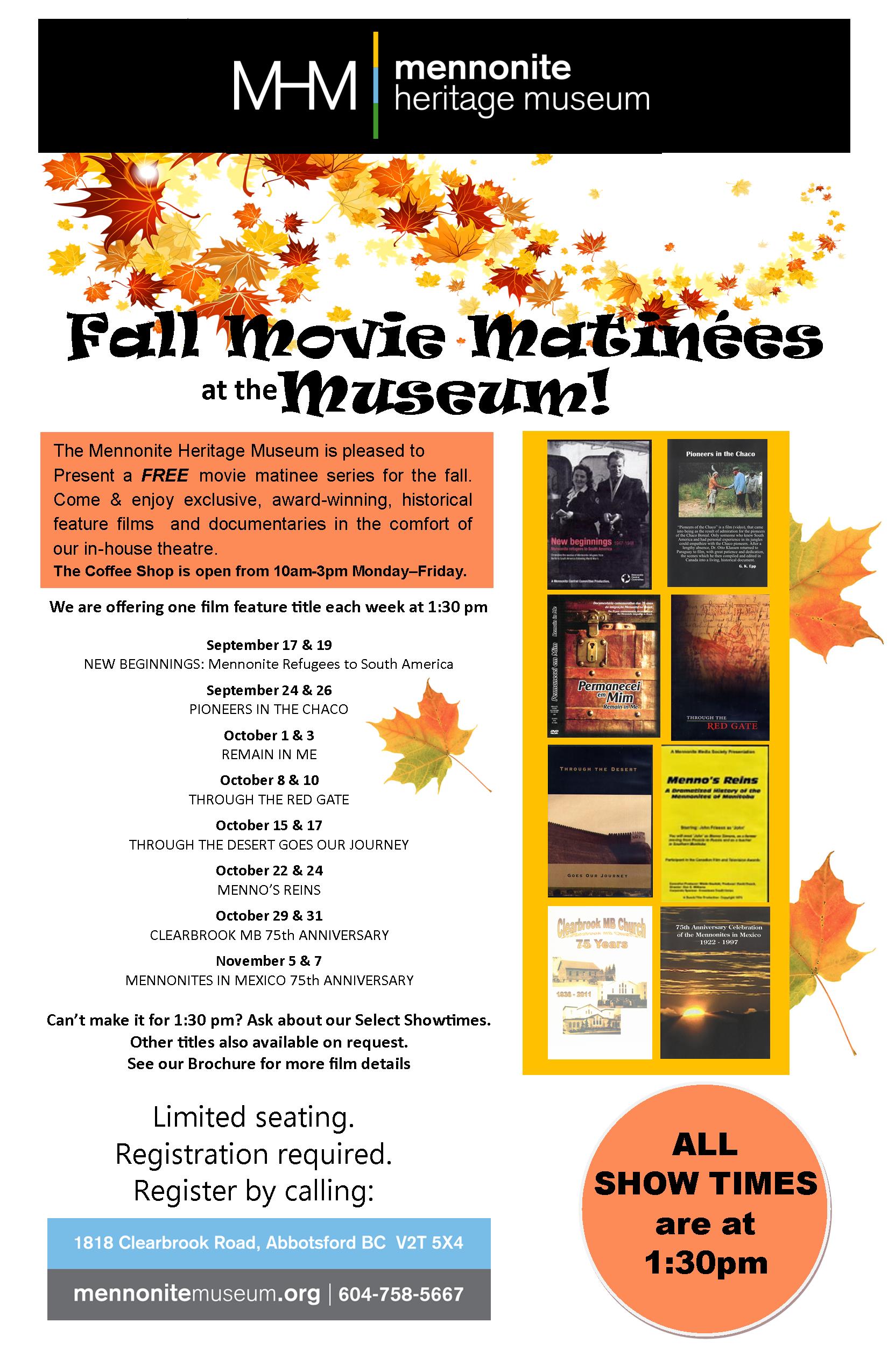 We are offering one film feature title each week at 1:30 pm
September 17 & 19
NEW BEGINNINGS: Mennonite Refugees to South America
September 24 & 26
PIONEERS IN THE CHACO
October 1 & 3
REMAIN IN ME
October 8 & 10 
THROUGH THE RED GATE
October 15 & 17 
THROUGH THE DESERT GOES OUR JOURNEY (57 min.)
An epic journey from the steppes of Uzbekistan to the American Midwest. Failed prophecies and deadly adventures left a thorny legacy for descendants of the 19th century Mennonite trek to Central Asia. But new revelations heal the wounds of the past. The writer of this documentary follows a modern pilgrimage from Kansas to the Silk Road kingdom of Khiva. The journey reveals lost chronicles of Muslim-Christian friendship and bravery in the face of Soviet
oppression. This film features vintage motion pictures never seen outside the Soviet Union and offers dramatic stories of survival that have remained locked away for more than a century. An Agile Arts production/Mennonite Historical Committee Presentation.
October 22 & 24
MENNO'S REINS: A Dramatized History of the Mennonites of Manitoba (60 min.)
This film includes two parts of dramatized monologues based on Mennonite history from 1525-2008. Part one explains early history of the Anabaptist movement with a spotlight on 'John' Menno Simons (played by John Friesen), who is a farmer moving from Prussia to Russia. Part two entails a story of a teacher in Southern Manitoba, and highlights migration to North America/Western Canada.
October 29 & 31
CLEARBROOK MB 75th ANNIVERSARY
November 5 & 7
MENNONITES IN MEXICO 75th ANNIVERSARY