The Mennonite Heritage Museum is pleased to present a FREE movie matinée series this spring. Come and watch exclusive, award winning, historical feature films and documentaries in the comfort of our in-house theatre.
Our Cafe is open from 10am-3pm Tuesday-Thursday.  *Please call ahead if you are planning to come for lunch.
ALL SHOW TIMES Are in the Afternoon at 1:30pm.
Ask about our select show times.
Other titles are available, please ask.
Not for sensitive or younger audiences; Viewer discretion recommended.
Running times vary from 28—100 minutes.
For more details, see our website.
*No-Host Lunch, call ahead to reserve seats.
Limited seating.
Registration Required.  Call today! 604-758-5667
Check in at Front Desk upon arrival.
The Front Desk serves as our Box Office for tickets.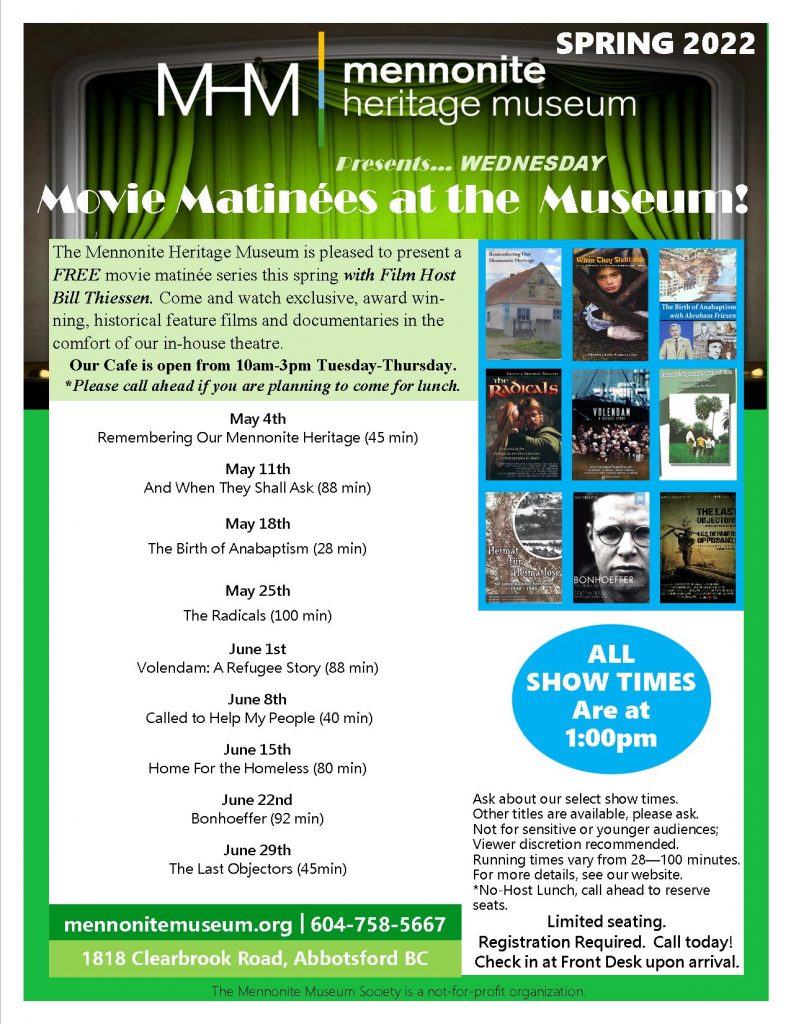 May 4, 2022
Remembering Our
Mennonite Heritage
This film documents Mennonite
Experiences in
Russian and the Soviet Union.
Produced by Otto Klassen (45 min)
May 11, 2022
…And When They Shall Ask
In English: An award winning docu-drama
of the Mennonites sojourn in Russia from 1788 to the present.
A David Dueck Production (88 min)
May 18, 2022
The Birth of Anabaptism
A film all about the history of Anabaptism. Taught by Abraham Friesen. (28 min)
May 25, 2022
The Radicals
A docu-drama of the early Anabaptist movement, as experienced by Michael and Margaretha Sattler. To a world of fear Anabaptists introduced freedom… A crime
punishable by death. (100 min)
June 1, 2022
Volendam: A Refugee Story
In memory of those that never made it to freedom. Examines the story of Russian Mennonite Refugees during WW2 told through personal interviews,
re-enactments and never before seen
archival footage.
Refugee 31 Films (88 min)
June 8, 2022
Called to Help My People
This film portrays the life of indigenous tribes in the Grand Chaco before and after the arrival of the first European settlers, shown through the eyes of Lengua Sepe Lhama.  (40 min)
June 15, 2022
Home for the Homeless
A film that focuses on the lives of those who escaped Russia and fled to Paraguay. Viewers are given a glimpse into what life may have been like throughout their settlement and growth in the Grand Chaco. (80 min)
A Dueck Film Production
June 22, 2022
Bonhoeffer
One of the most dramatic odysseys in recent  history, this documentary recounts the life of Dietrich Bonhoeffer as he became a pastor and theologian during the rise of  the Nazis and then secretly joined the assassination plot to kill Adolf Hitler. (92 min)
A Martin Doblmeier Production.
June 29, 2022
The Last Objectors
A documentary on Canada's conscientious     objectors of WWII. They would spend years working in forestry camps, hospitals, asylums, and  various other positions throughout the country with little pay and no benefits. (45 min)
A refuge 31 Film
---