You are Invited!
MHM BOOK LAUNCH:  "It takes Raindrops to Fill a Lake" by Walter Paetkau
Presentation begins at 2:00pm at the Mennonite Heritage Museum,
Saturday, April 4, 2020 at 2pm.
Books will be available for purchase from the MHM Bookstore.
Meet the Author, Walter Paetkau.
Light refreshments.
The Museum will be open from 1pm to 4pm and you are free to peruse the exhibits.
This is a free event and we welcome you to bring family and friends!
Scroll down for more information …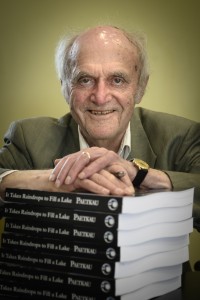 About the Author  Walter Paetkau received his teaching degree from the University of Alberta. After a few years in classrooms, he enrolled as a student at the Mennonite Biblical Seminary in Elkhart, Indiana. During his second year he was accepted as an exchange student at the Interdenominational Theological Center, an African American seminary in Atlanta, Georgia. It was there that he was influenced by the civil rights movement which led to his growing interest in peace, justice and social service issues.
Walter moved to British Columbia and worked for the BC Mennonite Conference and the Mennonite Central Committee, developing service projects. He was one of the founders of Matsqui-Sumas-Abbotsford Community Services in 1967; the constitution was drafted in 1968, and the Society was registered in 1969.
Mr. Paetkau served the organization in the role of Executive Director of Abbotsford Community Services from 1969 – 2000 and received the Order of Abbotsford in 2008.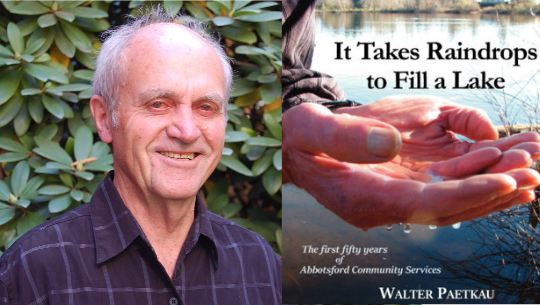 About the Book   "Archway Community Services (formerly known as Abbotsford Community Services) is proud to announce the telling of our story, from our 1969 origins through five decades of cooperation, volunteerism, community response and service.
The book, spearheaded by founding member Walter Paetkau, recounts how our organization has developed into one of the most diverse service agencies of its kind in Canada.
It tells the story of the our early years, development, and growth of services through the decades and includes stories of success and cautionary tales for future generations, based on our experiences.
The book draws from archives, interviews with former and current staff, volunteers, and people in the local community."
Audience  The book is intended for anyone interested in the history of social services and / or the history of Abbotsford.
Reviews and Links

https://archway.ca/acs-book/reviews/
https://canadianmennonite.org/acsbook
https://vancouversun.com/entertainment/books/book-review-honestly-tracing-the-history-of-abbotsford-community-services
---