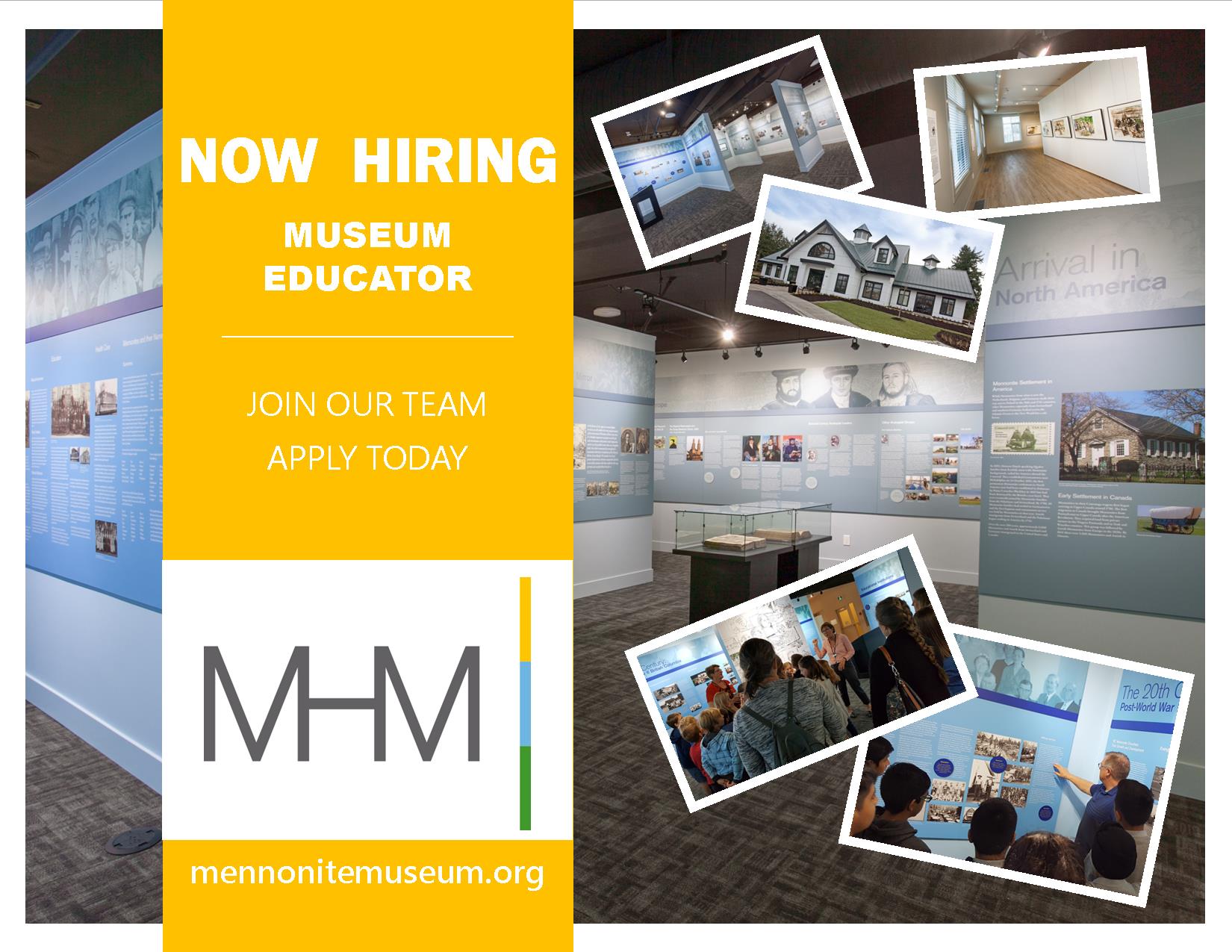 Position: Museum Educator

Closing Date for Applications: August 16, 2019 @4:00pm PST

To Apply: 
Email your cover letter, resume and credential documents (PDF format preferred) to: info@mennonitemuseum.org
In the Subject line write your Last Name, First Name: Job Posting: Museum Educator 2019.002
Only applicants selected for an interview will be contacted.
JOB DESCRIPTION
Museum Educator for the Mennonite Heritage Museum
The mission of the Mennonite Heritage Museum is to preserve and share the story of the Mennonites from their origins in the 16th century to their settlement in the in Fraser Valley.  The Mennonite Museum Society hopes to engage present and future generations with the Mennonite story through a variety of mediums, including personal engagement, interactions, special events, physical and digital interactive displays and audio-visual materials.
Role Overview
The Museum desires to engage the services of an individual with a broad and comprehensive understanding of the Anabaptist Mennonite faith story and an understanding of the Mennonite experience in the Fraser Valley to fulfill the role of Museum Educator.
The Museum Educator will develop and deliver a dynamic program of experiential learning, ensuring that the museum's collections will serve as a learning resource for all ages.  He or she will strengthen the relationship between the museum, the Mennonite Historical Society of BC and various groups, including schools, churches, and community organizations.
Role Responsibilities
The range of duties carried out the by the Educator includes the following:
-creating a learning strategy to engage the public consistent with the mission of the museum;
-developing presentations, activities and workshops around particular exhibitions or in response to particular themes and community celebrations;
-initiates community engagement, liaises with schools including post-secondary institutions to promote the use of collections and activities of the museum;
-developing written materials and resources that can be used in both formal and informal settings;
-delivering and promoting presentations, workshops and activities in partnership with storytellers, craftspeople, artists and others;
-managing programs, budgets and teams of volunteers, oversees projects;
-collating, analyzing and applying feedback on the educational activities provided;
-working with museum staff and volunteers to develop and promote the museum
-is a resource for community groups, including historical societies inter-provincially, in sharing Mennonite history and knowledge of accessible resources
Qualifications
Although this area of work is open to all graduates, a degree in the following subjects is more suitable:
-Education
-Archive and Museum Studies
-History
-Cultural Studies
-Religious Studies
Skills
The successful applicant will have demonstrated:
-excellence in written and oral communication skills;
-confidence in dealing with the public;
-teaching skills to plan and deliver educational activities in an engaging manner across all demographic groups;
-imagination and creativity in designing activities and resources;
-commitment to working with adults, families, young people and special needs groups;
-ability to manage volunteers, budgets, and resources;
-team building skills;
-self-motivation and ability to work independently;
-good organizational and administration skills;
-knowledge and sensitivity to cultural and disability issues;
-ability to use technology in its various forms to support Museum objectives.
Experience
3 to 5 years in a public role such as a museum or education field;
Experience with developing, producing and implementing learning materials is preferred.
Additional Requirements
Must hold a valid BC Driver's license and be able to operate own vehicle for work use.
Details
The Museum Educator will regularly work 7.5 hours a day from Monday to Friday (with one hour unpaid lunch).  However, when special events occur after-hours and on weekends, the Educator will flex their hours to accommodate these special circumstances.
Consideration will be given to applicants interested in either a full-time position or a job-share arrangement.
Salary range of $45,000.00 to $57,000.00 annually commensurate with education and experience of candidate.  Includes benefits.
___________________________________________________________________________
Summer Student:  The Mennonite Heritage Museum, Abbotsford, BC
The Mennonite Heritage Museum may look to hire a summer student to assist with various Museum activities, including Receptionist, Gallery Attendant and Office support, for Summer 2020.
If you are interested in working with us, please check back in Spring 2020- here, or visit Young Canada Works for possible postings from us.